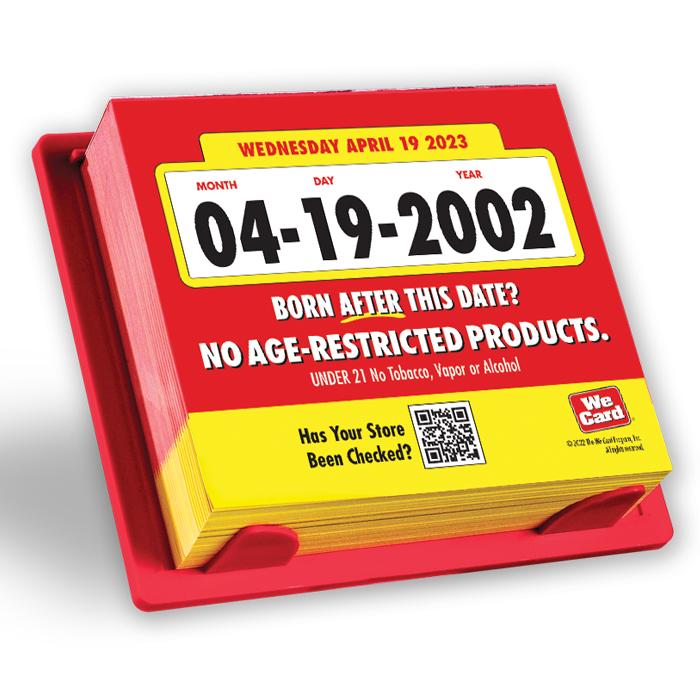 As 2022 winds down, now is the time to think about preparing your store for the new year.
One of the most important things retailers can do to be ready for 2023 is to have We Card Age-of-Purchase Calendars ready at each register.
 Even if you scan IDs, a page-a-day calendar is important too.  Each page of the tear-off calendar serves as a daily reminder and clearly displays today's date along with the date from 21 years ago to help cashiers quickly and easily determine if a customer is old enough to buy age-restricted products. If a customer's ID shows they were born after the date on the calendar, then they are too young to make the purchase. 
Three reasons every checkout should have an Age-of-Purchase Calendar on display.

It's easier than doing the math. 
The Age-of-Purchase Calendar gives employees a visible reference point for determining if a customer meets the age requirement for tobacco and vapor products. Instead of trying to calculate a customer's age during the transaction, the employee can just compare the date-of-birth on the ID to the date on the calendar. This makes it easier and faster to determine whether they can make the sale.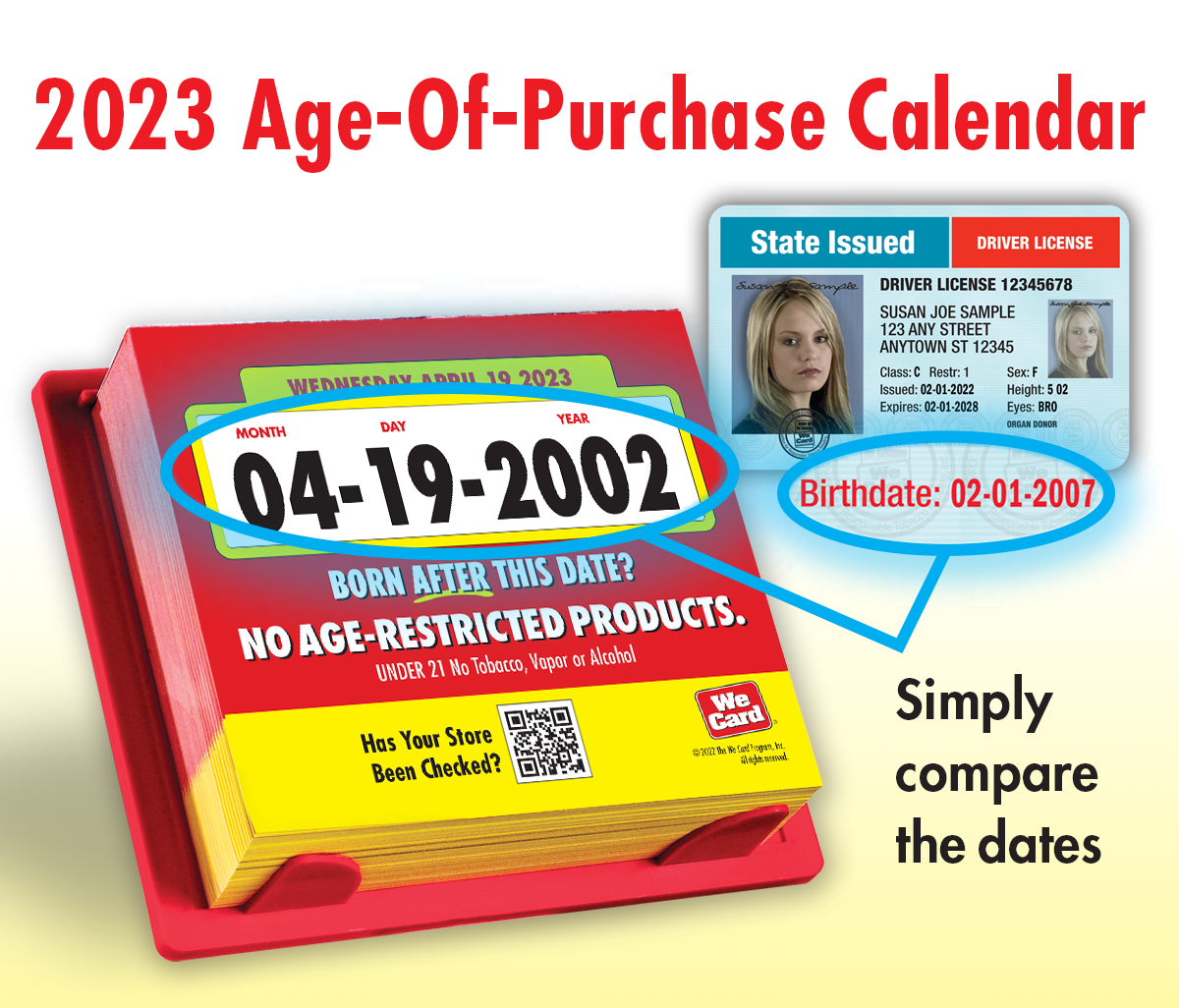 And if an ID scanner is at the point of sale?  The Age-of-Purchase Calendar still serves a critical purpose. Retailers tell us it's a great visual deterrent for underage customers while also reminding employees of the importance store management places on denying underage age-restricted product purchase attempts. Further, the calendar is a great backup tool just in case the scanner doesn't give a clear result.
Daily reminders build good habits.
The daily act of tearing off yesterday's page of the calendar is a physical reminder of how important it is to confirm a customer's age before selling tobacco products. Not only does the calendar assist frontline employees in calculating the correct age for a legal tobacco or vaping product sale, but it also serves as a daily reminder to employees that they need to ask for and check IDs. (And if an ID scanning device is being used, make sure the customer matches the photo on the ID.) With the multiple responsibilities retailers have, a friendly and useful daily reminder is vital.
Customers know what to expect.
Age-of-purchase calendars are good reminders, particularly with the recent increase in the legal age to purchase to 21 — for employees and customers.  When customers see the age-to-purchase date at the point of sale, they know what to expect when purchasing an age-restricted product. Underage customers who see the daily page-a-day calendar recognize that if they attempt to purchase tobacco or vape products from your store, they will be asked for ID. The calendar is also a handy tool to let underage customers know why a sale has been denied. Employees can point to the calendar and reinforce the minimum age sales law.
The Age-of-Purchase Calendar is an absolute necessity for every retailer. Order your calendars and other 2023 in-store education materials at store.wecard.org.