Eleven states prohibit sales to minors...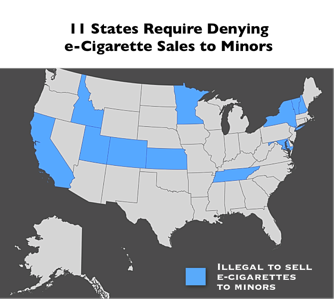 e-Cigarettes are increasing in popularity.
States are adding them to the list of restricted products that should not be sold to minors.
Today, 11 states consider e-cigarettes as an age-restricted product. In short order, 11 states could change to 12, 15 or even 50 states.
If you operate a store(s) in any one of these 11 states, get the word out to your store managers and frontline sales associates to alert them to sell them responsibly by:
Asking for ID of customers under the age of 27 (that age threshold is our recommendation). If your store policy is "under 30" or another age, you should re-enforce it with your employees.
Denying e-Cigarette sales to minors (with a "minor" defined as the minimum-age of 18 years old in most states and 19 years old in AL, AK, UT, NJ and some NY counties.)
You may also wonder if FDA regulates e-cigarettes?
Today, FDA does not regulate e-cigarettes (as long as makers do not make a therapeutic claim), but make a note that FDA has indicated its intention to regulate them in the future. To see what FDA says about e-cigarettes (shown to the right or click here.)
When/if FDA does issue new regulations or information on e-cigarettes, we will certainly let you know.
In the meantime, raise aw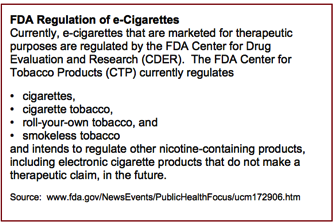 areness of the importance of responsibly retailing e-cigarettes while complying with the state laws that require you to deny e-cigarette sales to minors.
Double-check your company or store policy to make sure it covers responsibly retailing e-cigarettes, update it if necessary and distribute a copy to your employees. We have a helpful company tobacco sales policy template as a download for you to utilize or spruce up your own.
Finally, please take a moment to complete our short survey. I'd like to hear your views.
Thanks again.
Doug Anderson
President
The We Card Program, Inc.
© 2013 Copyright - The We Card Program, Inc. All Rights Reserved.