Are Your Employees Checking IDs?
ID Check-Up service makes a big impact on employee performance in preventing underage sales.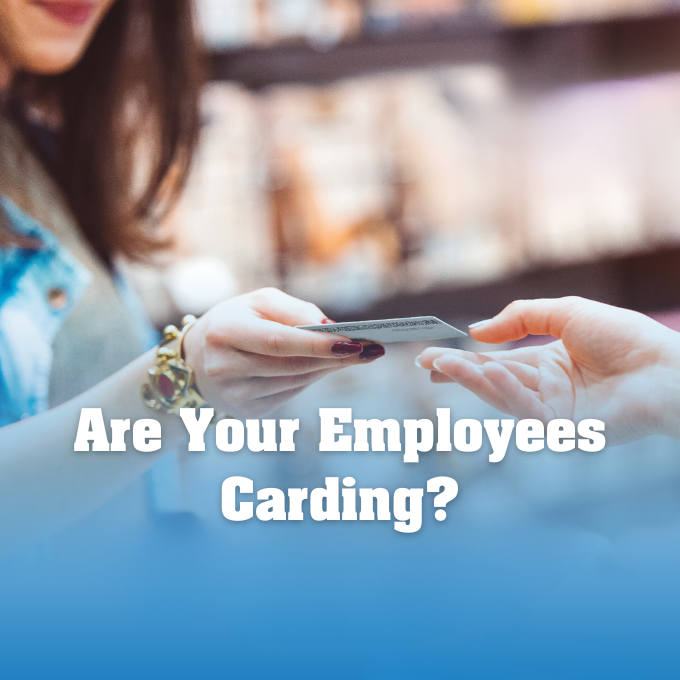 ID Check-Up is a mystery shopping program that checks whether employees are properly carding customers for age-restricted products, including tobacco, alcohol, e-cigarette, and vaping products. Use it to find out how well your employees are incorporating their training into real-world situations and reinforce good habits in your entire staff.
How It Works
Every month, we send a checker between the ages of 21 and 25 to your store to attempt to purchase age-restricted products.
●      PASS: If your employee asks for ID, our checker hands them a green card with a short congratulatory message.
●      FAIL: If your employee does not ask for ID, our checker hands them a red card with a reminder to card anyone who looks to be under the age of 30.
Get ID Check-Up results via secure, online reports within 24 hours. Results are emailed to you by the next business day and posted online to view. You can track over time how often your employees are carding customers for age-restricted products and track the progress they make.
Sign-up for ID Check-Up is an easy process, and you can specify the types of checks (attempted purchases of either tobacco, vaping/ecig or alcohol).  We recommend two checks per month, and for convenience stores that sell both tobacco and alcohol, one check of each per month is the most popular sign-up.
Improved Results
Regular, routine check-ups for employees have proven to be remarkably effective for the convenience store owners and managers we work with. Retailers who use ID Check-Up for 12 months of bimonthly checks improve their compliance rates significantly. **
ID Check-Up reinforces the overall We Card training that keeps your store compliant with state and federal laws. This simple service can help you improve your compliance rates over time.
For questions about We Card, our programs, and our activities, please visit www.wecard.org or contact us at comments@wecard.org.
**Time in Program and Pass/Fail statistics are based on aggregate data generated through thousands of shopper visits over several years under the same, or similar, programs as the We Card ID Check-Up program. Results may vary by individual retailer