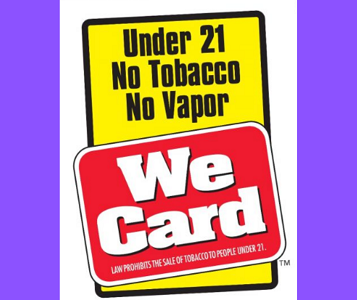 Some retailers have moved to a policy of carding every customer who buys an age restricted product.  And some ID scanning technologies will not proceed with a transaction unless an ID is scanned.
How does your store handle carding for age restricted product sales?  When it comes to asking for IDs, laws and regulations vary from state to state and the FDA sets a minimum carding age as well. 
In December 2019, Congress passed legislation that not only raised the minimum age to 21 for all tobacco and vapor products but also established under 30 as the carding age.
Some stores have carding policies that require employees card ALL customers while others set their carding policy at a specific age threshold.  And now, for example, the State of Colorado has a carding regulation requiring retailers card anyone under the age of 50 (and also requires a state sign be posted).
If we look forward a few years, we will likely see all IDs being scanned before an age restricted product purchase. Several major chains are already requiring ID scanning at checkout.
As fines and penalties increase and enforcement activities like FDA compliance checks continue, retailers will need to double down on ensuring their carding practices follow the laws and are best suited to their store operations.  
And it's always good to remember that guessing is hard, that's why We Card.
We Card can help with a suggested store carding policy template – a We Card best practice – and through training exercises that emphasize just how tough it can be to guess someone's age.  Mystery shopping your stores is also a good best practice to make sure IDs are being checked regularly.
We Card is always here to help with a host of resources from training to materials.  Check out We Card's training, click here or learn more about The We Card Program.