We often hear that carding is no big deal, that it's easy... but my response is usually, "you might think so, but it isn't."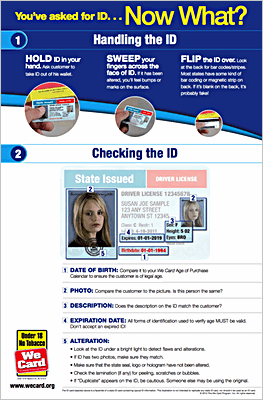 Please feel free to download and distribute to your employees.
Let's think about steps...
Should I card this person? (Under 27 or your company policy)
Asking for the ID
Examining the ID
Calculating the customer's age
Determining how to handle a sale or no sale decision
And then there's the unpredictability of human interaction... was this a pleasant experience for both you and your customer?
Here at We Card, we break these many steps down to make a retail employee's job easier.
After asking a customer for their ID, the first step to execute is "HOLD, SWEEP, FLIP."
HOLD the ID in your hand. Ask the customer to take ID out of his wallet.
SWEEP your fingers across the face of the ID. If it has been altered, you'll feel bumps or marks on the surface.
FLIP the ID over. Look at the back for bar codes/stripes. Most states have some kind of bar coding or magnetic strip on back. If it's blank on the back, it's probably fake!
It takes just seconds. It's also a good first step even if your store uses an ID scanning or swiping device. And, it's a technique for handling an ID that helps in spotting fake IDs, including those where the ID face looks real but is a fake that's glued on top of a gift card with a bar code on the back. Yes, it happens.
Next Step: Examine the ID
IS IT A VALID GOVERNMENT ID: Make sure you're looking at a valid government-issued ID, not a college ID card or something other than the big four: Driver License or State ID card, Military ID or Passport.
DATE OF BIRTH: Compare it to your We Card Age of Purchase Calendar to ensure the customer is of legal age.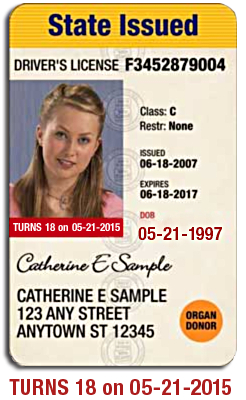 PHOTO: Compare the customer to the picture. Is this person the same? Have they altered their appearance to look older?
DESCRIPTION: Does the description on the ID match the customer?
EXPIRATION DATE: All forms of identification used to verify age MUST be valid. Don't accept an expired ID!
ALTERATION:
Look at the ID under a bright light to detect flaws and alterations.
If the ID has two photos, make sure they match.
Make sure that the state seal, logo or hologram have not been altered.
Check the lamination (if any) for peeling, scratches or bubbles.
If "Duplicate" appears on the ID, be cautious. Someone else may be using the original.
If you scan the ID and the bar code is unreadable, check the ID again. Perhaps it is a really good fake ID. You have the right to reject a sale if you suspect the person isn't old enough.
And there's also an easy way to determine age: sometimes state driver licenses or state IDs may be vertical instead of the traditional horizontal display of an ID. Others have red text or highlighted areas sometimes in RED indicating >UNDER 18 until xxx date xxx or UNDER 21 until xxx date xxx. See We Card's info on Minor License Characteristics by state.
Confident employees perform better. Knowing what to do and how to do it - through tips like HOLD, SWEEP, FLIP - can help your employees fulfill their responsibilities by denying age-restricted products to minors.
These tips and more, along with interactive practice exercises, are available within We Card online training. It's also available on We Card's Fake ID Tipsheet and in a 10" x 16" color poster - order here. Please feel free to download this You've Asked for ID... NOW WHAT? Poster and distribute it to your store(s).
All the best,
Doug Anderson
President
The We Card Program, Inc.
© 2013 Copyright - The We Card Program, Inc. All Rights Reserved.