7 steps to take right now.
Before FDA regulations took effect, it was enough to prevent an underage tobacco sale. The thinking was, "is this customer old enough to buy tobacco?" ruled the day.
That way of thinking falls short now.
Retailers are receiving warning letters from the U.S. Food and Drug Administration (FDA) for selling tobacco to a minor AND for not carding someone who is under 27. That's two violations, not one.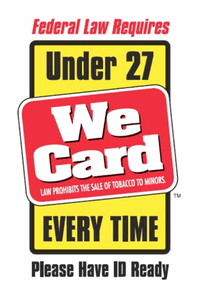 And right now, the FDA is going easy on retailers issuing warning letters instead of issuing fines and penalties. But this will change.
The FDA promises to re-inspect violators and issue civil money penalties ranging from $250-$10,000 for violations and can go all the way up to a "No Sale Order" which means your store can't sell tobacco at all.
The FDA is serious and you should be too.
There are ways to make your life easier. Start training all your employees for one. If you can "document and demonstrate" that your employee(s) and your store implemented a training program that meets FDA guidance, then you may benefit from a reduced penalty schedule. And be sure to train everyone, as research proves this leads to greater compliance.
Those of us at We Card have worked with retailers for 15 years and know that certain training techniques work better than others.
Plus, there's a range of things FDA suggested guidelines require beyond training employees: management and hiring practices, creating your store tobacco sales policy and mystery shopping all play a part.
Consider these 7 steps to get your store ready and prepare for and comply with the new FDA regulations.
1 - Understand that successfully denying sales to minors isn't enough. FDA inspections will look for more, like whether you asked for ID.
2 - Make training a priority - the right kind of training covering FDA regulations, state law requirements and specific FDA requirements. Don't forget that both your state and the FDA can look for non-compliance.
3 - Adopt the FDA's outline on management and hiring practices.
4 - The FDA wants you to consider implementing mystery shopping programs and develop and communicate a comprehensive company or store tobacco sales policy to your employees.
5 - Equip your store(s) with age calculation tools and point-of-sale signage to support and reinforce company policy while communicating your responsible retailing efforts to customers.
6 - Keep up-to-date on FDA actions and requirements by visiting FDA's website regularly. (www.fda.gov/TobaccoProducts)
7 - Create a checklist and make sure all the "to do" items are checked. Be sure to look for help to avoid being overwhelmed.
There are plenty of support tools available. We Card has a variety of resources available to you and your employees.
The newly launched We Card eLearning Center features a major update to We Card's award-winning online training - including FDA content and curriculum items along with extensive reporting and record keeping functions for managers and corporate decision makers. The Employee Training Course can also be licensed for use in large chains or accessed directly via the web.
We encourage retailers to visit our "Get Ready" site (http://wecard.org/getready) and Get Your Store Ready for FDA Enforcement. You'll find fact sheets, links to the FDA, We Card training and more. Test-drive what you need, ask for help, and we'll do our best to assist. We're here to help. Contact me for more information at danderson@wecard.org.
Final note: The FDA is currently following the reduced civil money penalty schedule as if all retailers had an FDA approved training program in place. Once the FDA issues its final guidance on training programs, the more restrictive penalty schedule will kick in.
Doug Anderson
President
The We Card Program, Inc.
© Copyright - The We Card Program 2011, All Rights Reserved