FDA Issues Guidance for Retailers
We Card to Update Training based upon new FDA info
There is a lot of big compliance news to share with you.
Some of it will impact your decisions on training employees.
Other news may prompt you to equip your store with signage or training job-aids for employees.
Here's the news:
--------------------------------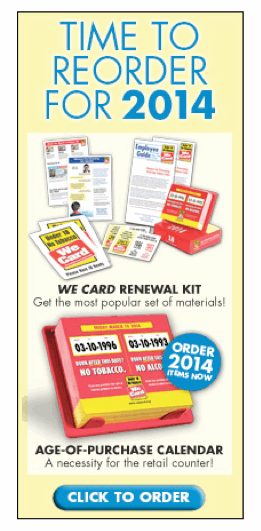 FDA updated their guidance on Tobacco Retailer Training Programs -
(15 pages) on 9/4/13.
Note: We Card closely examined the new Training Guidance against FDA's earlier "Draft Guidance" from July 2010 and found a few new items FDA recommends. We Card's eLearning training will be updated shortly with this new FDA information.
FDA also issued updated guidance on Compliance with Regulations Restricting the Sale and Distribution of Cigarettes and Smokeless Tobacco to Protect Children and Adolescents - (33 pages) on 8/21/13.
Note: We found that in order to read one FDA guidance document, you needed both documents as well as the entire Tobacco Control Act because one referred to the other or to specific law code (such as 21 CFR 1140).
The latest FDA enforcements publicly available data thru 9/30/13 shows:
90,000 compliance checks of retail stores in 2013 - that's on track to meeting or exceeding the 95,000 checks in 2012
221,000 compliance checks since 2010
FDA conducts compliance checks in 42 states + D.C.
The average fine stands at $631 with $250 appearing frequently as the first fine and some fined $2,000-$5,000 for repeat violations.
FDA promises (and does) re-check retailers who receive Warning Letters or fines.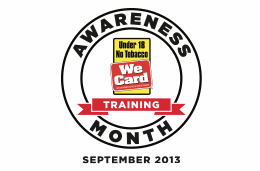 See We Card's analysis of FDA enforcement data for more information.
Warning Letters are still issued to first time violators . . . but FDA reserves the right to end this step and move right toward the penalty phase when they issue a regulation on an FDA "approved training program" as called for in the Tobacco Control Act. When that happens, it is believed that only retailers using an "approved training program" will get Warning Letters or reduced fines (as the Tobacco Control Act indicates.) There is no word on the timing of when FDA will finalize standards for an "approved training program."
The federal government (separately from the FDA) issued its annual 2012 report on state-by-state retailer violations of state youth access to tobacco laws - showing the national retailer violation rate is 9.1% -- See 2012 Synar Report.
--------------------------------
In other news I can report that We Card's eLearning Training Program was honored with a Bronze Stevie® Award by the American Business Awards in the "Best Training Site" website category.
Our We Card 2014 materials are available now and we're ready to take your order. I encourage you to order early and avoid the last-minute ordering crush during December. Order here or download a catalog.
And finally, a hearty "thank you" to all the retailers, national and state level retail trade associations who actively participated in September's We Card Awareness Month. It was a tremendous success in raising awareness of the requirements of FDA regulations and those of state laws, while celebrating retailers' ongoing efforts to responsibly retail age-restricted products using We Card program resources.
All the best,
Doug Anderson
President
The We Card Program, Inc.
© 2013 Copyright - The We Card Program, Inc. All Rights Reserved.