For a limited time - We Card is offering two FREE training courses for two employees when you purchase your We Card materials - we're limiting this opportunity to the first 2,000 customers between now and December 31st.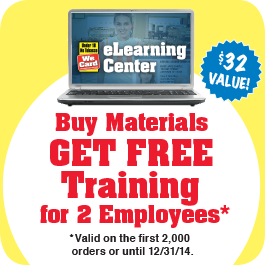 Why? Quite simply, we want you to test drive We Card's training with two of your store employees.
We're confident you and your staff will find it valuable (so that you decide to come back and train the rest of your staff.)
You see, your frontline employees need thorough training to ensure compliance as well as top-notch courtesy and service to your customers.
We have learned through experience, retailer feedback and survey research

that successful training is not a one-off encounter, but an ongoing process. Initial training followed by constant reinforcement will teach your employees what they need to know, and what they need to DO to prevent underage tobacco, alcohol or e-cigarette sales.
We Card online training is not one-size-fits-all. It works by combining a mix of verbal and visual learning. For visual learners, there's interaction with customers, and different products with a simulated behind-the-counter store perspective making it easy to navigate to the information they need to succeed. Verbal learners hear the voice of Al, the store manager, who serves as "the on-site guide" as learners move through the training.
And because practice makes perfect, We Card training uses interactive simulations like the Age Calculation Exercise so active learners can "learn by doing". For reflective learners, simulations are followed by opportunities to consider why one approach is better than another as in the Handling Difficult Situations Exercise.
The unbeatable combination of We Card's in-store materials and online training is your store's best line of defense against underage age-restricted product sales.
Order your in-store tools today - and get your access to our FREE training courses for 2 of your employees*. Then, of course, we hope you'll train the rest of your store's employees.
Doug Anderson
President
The We Card Program, Inc.
© 2014 Copyright - The We Card Program, Inc. All Rights Reserved.
*Valid on the first 2,000 orders or until 12/31/14.