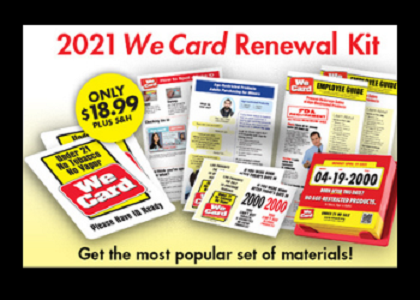 January is the time to make sure your store is ready for 2021. 
If you didn't order the 2021 We Card Renewal Kit before the end of 2020, right now is a good time to do so.
We Card Kits are chock full of materials that ensure your store has what it needs to comply with laws and regulations and to help you and your employees prevent underage sales of age restricted products. 
Let's take a quick look at what you'll find in the 2021 Renewal Kit,
The We Card 2021 page-a-day calendar provides a quick look "Born After This Date?" for every day of the year.  As each page of the calendar is removed, the date for the Born After This Date changes.  While it's a paper-based tool and the world is moving to everything electronic, the calendar remains one of the most valuable items.  It is serves three vital purposes: 
As an age calculation tool, reminding employees of the correct date that should show on a customer's ID;
Alerting customers that they will be carded; and,
Removing a page each day reminds employees to card every customer under age 30 -- and it is a great reminder of the current date.
The We Card Employee Guide (2 in a Renewal Kit) has lots of important information:  it covers current Federal law and FDA requirements on vaping products, e-cigarettes, cigars, hookah and pipe tobacco and many more; it has a summary of your state law (on purchase, you specify your state); and it is full of training tips like We Card's AERO method of handling underage purchase attempts; the Hold, Sweep, Flip technique on verifying IDs and a sample employee quiz.  The Guide is vitally important to ensure employees are trained and ready.
There are training Tipsheets like "How to Spot a Fake ID" and "Age-Restricted Products - Adults Purchasing for Minors" (also known as social source, see We Card's Pledge Program), Age of Purchase decals and Window/Door Decals. 
When we launched the We Card Program back in 1995, we offered a range of materials that retailers said would be useful. In the many years since, we've refined these materials based on retailer and stakeholder feedback and made every item in the renewal kit more succinct and useful.
We encourage retailers to order what they need in their stores and to acquire training courses for employees to practice age calculation and learn using a variety of tools like scanners, register prompts and calendars.
There's lots more to learn and we encourage visits to We Card's website where we've created resources from state law summaries, information about state required signs, the latest of FDA requirements, and mystery shopping services like We Card's ID Check Up.