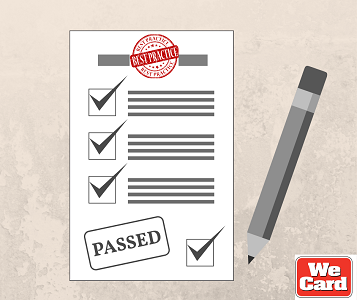 Training employees is vital and making sure they have the knowledge they need to do their job effectively can make all the difference.
Do they know the correct age to sell tobacco or vaping products? (Hint 21) Recent research shows that some folks weren't aware that the law changed nationally to age 21 for tobacco and vaping products.
Do they know what the age is where they must ask for ID?  (Hint 30).  The Federal law change included a requirement (yet to be formally issued) that employees must ask for ID from customers under the age of 30.  And some retailers require all ID's be checked regardless of the age of the customers.
And this brings us to We Card's Best Practice #10
          Require All Employees to Pass a Test after they've received training.
You might be surprised to learn that FDA Guidelines ask retailers to make sure employees take and pass a test and to keep test results for 4 years.
     We Card's Resources with Employee Training Tests include:
We Card's Employee Guide – included in We Card Kits or ordered separately – includes a training test along with federal and state law summaries and fundamental We Card training curriculum elements.
To learn more about Best Practice #10, stop by We Card's website or to check on your own best practices, take our survey or surf through more tools and training at wecard.org.