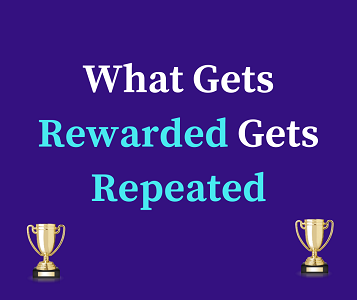 Developing employees involves training and regular positive reinforcement -- we all know that what gets rewarded gets repeated.
Employees who perform well at their jobs often report that management not only stays on top of how they're doing but also rewards their good performance.
One of the best ways to do this is to provide positive reinforcement when employees do the right things and constructive feedback when they do the wrong things. If you don't, your employees will do what they think is right instead of what you know is right.
And this brings us to We Card's Best Practice #11
    Continuously Supervise and Offer Positive Recognition
Management should make preventing underage tobacco & vaping product sales a priority and consistently reinforce this issue at periodic meetings during training. If laws are mentioned only when an employee is hired, sales associates may mistakenly believe it's not an important issue to the store.
Continuous follow-up training and discussion about preventing underage tobacco & vaping product sales not only reinforces proper behaviors but also sends a strong message to the staff that this is a serious subject. Offer rewards and positive reinforcement when an underage customer is denied age-restricted products.  And if you use a mystery shopping service, reward your employee when they pass a check.
Too often we only communicate with the sales associate when they've failed to properly check ID. If the video cameras are available, use them to monitor employee performance. If the staff knows their performance is being watched, they will be more likely to take the necessary steps to always perform their job properly
Training employees is vital and making sure they have the knowledge they need to do their job effectively can make all the difference.
To learn more about We Card's Best Practice #11, stop by We Card's website or to check on your own best practices, take our survey or surf through more tools and training at wecard.org.