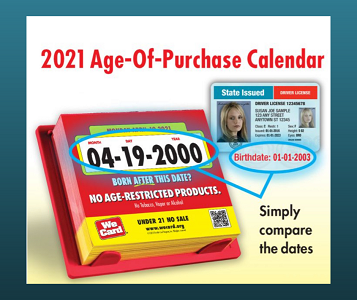 It might not be surprising to learn that age restricted product retailers are always interested in tools to help prevent underage tobacco and vapor sales.  In past We Card surveys, retailers have usually answered that if there's a new tool or technique to prevent underage sales, they'll want that tool or technique.
For example, retailers who use the We Card calendar – either customer facing or as a job aid behind the counter – know that when using the calendar for age verification, they should compare the date of birth on the calendar to the date of birth on the customer's ID to see if the customer is of the legal age to buy tobacco of vaping products.  Having this calendar is valuable and knowing how to use it properly even more so.
Using a POS ID scanner involves more than just using a point-of-sale scanner on an ID too.  We Card's "Hold, Sweep, Flip" technique when looking at an ID can help make sure the ID has not been altered, has no broken edges, and has the right information on the back.  The ID scanning tool is vital as is the knowledge on what to do with the ID once it has been examined.
This brings us to We Card's Best Practice #13:
     Make sure Employees know how to use Point-of-Sale Tools Effectively and have the right training to do their job effectively.
The sales counter is where everything your employees have learned becomes critical.  Make sure employees have the right job aids they need to responsibly retail age-restricted products.  Age calculation tools, tip sheets and customer facing signage – including state required signage – all help employees perform their responsible retailing tasks.
It's important to periodically review with each employee all the POS tools available in your store and make sure new employees know how to use the tools available because as studies show, knowing the tools are there is one thing but knowing how to use them regularly is another.  Incentive programs, positive reinforcement and regular training are all vital elements of a robust compliance program.  
We Card offers kits and other tools and training courses that can help your employees practice age calculation using a variety of tools like scanners, register prompts and calendars.
To learn more about We Card's Best Practice #13, stop by We Card's website or to check on your own best practices, take our survey or surf through more tools and training at wecard.org.