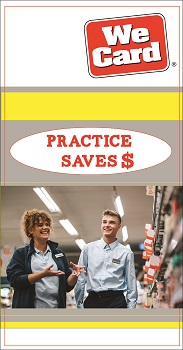 Many people live-for-the-weekend or even just a short vacation, but there's no such rest for compliance training and practice. Each and every shift an employee works is an ideal time for training and gaining on-the-job practice and familiarity with the knowledge and skills designed to prevent the sale of age-restricted products, including alcohol, tobacco, e-cigarettes and vaping products. And for new hires, thorough onboarding is critical to ensure they have a skillset foundation to build upon.
Your employees, new and seasoned alike, receive realistic and thorough training with the deployment of We Card's online award-winning training courses. Each course offers real-time, interactive exercises and simulations with gaming, role-playing and customer-cashier scenarios. Training includes FDA requirements of retailers and state law summaries. Upon successful completion of each course, participants receive a Certificate of Completion. A refresher training course is also available.
For questions about We Card's online training, or any of We Card's initiatives and practices, visit www.wecard.org, or contact us at 1-800-934-3968 / comments@wecard.org.