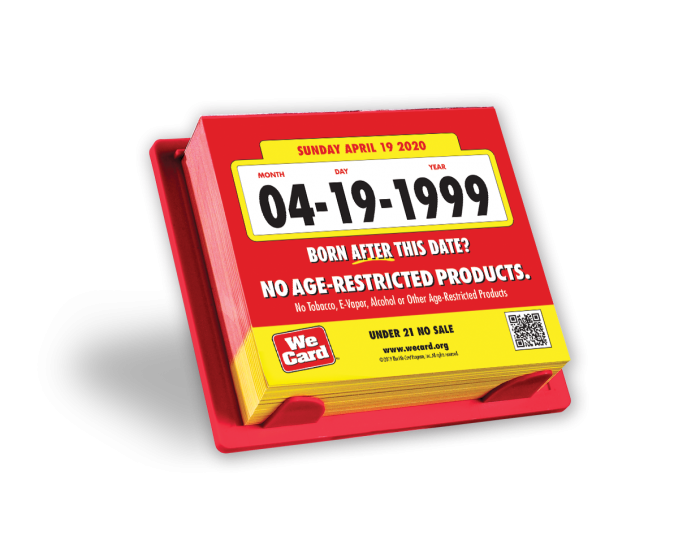 Now that the national minimum age to sell vapor and tobacco products is 21, We Card Calendars are in stock and available via We Card's online store. These calendars serve to remind employees of the minimum age to sell and are a valuable, quick reference tool to help cashiers quickly determine if a customer's age is in line with the new 21 age law. Tobacco 21 Legislation (T21) became effective Dec. 20, 2019.
Visit We Card's online store to purchase calendar(s) and other valuable training tools and signage.
For questions about We Card products, or any of We Card's initiatives and practices, visit www.wecard.org, or contact us at 1-800-934-3968 or comments@wecard.org.
About We Card
The We Card Program, Inc. is a national non-profit organization serving the nation's retailers of tobacco, alcohol, e-cigarettes, vapor products and other age-restricted products. Individual retail establishments as well as large retail chains utilize We Card's educational and training services for their compliance efforts with federal, state and local laws on preventing age-restricted product sales to minors. National and state retail trade associations, government officials, community groups and others also support We Card's ongoing efforts to raise awareness of responsible retailing and age verification requirements and to educate and train retail employees to identify and prevent underage attempts to purchase age-restricted products.