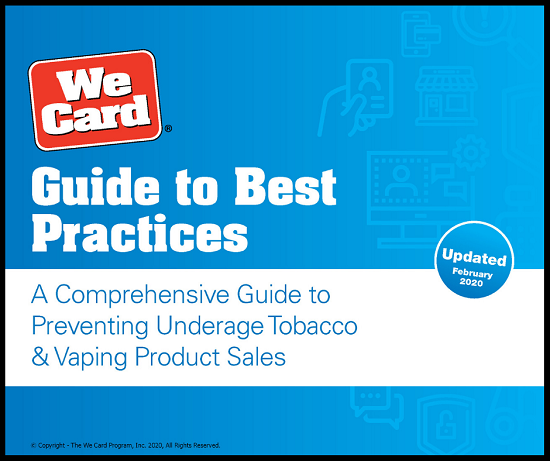 We Card's Guide to Best Practices for retailers has come a long way and can help.
25 years ago, when The We Card Program launched, there were a few resources that helped retailers and the larger stakeholder community develop some initial best practices for responsible tobacco retailing in an effort to prevent the underage sale of tobacco products.  In 1994, a group of Attorneys General produced a report titled, No Sale: Youth, Tobacco and Responsible Retailing. Developing Responsible Retail Sales Best Practices and Legislation to Reduce Illegal Tobacco Sales to Minors.
The We Card Program considered this set of recommendations when it engaged retailers in an ongoing conversation about what were the best practices.  As one prominent retailer aptly put it, "We want to do the right thing and follow best practices but hopefully we do what's tested and proven."
Eight years later, the US Government's Center for Substance Abuse and Prevention (2002) produced a draft titled Best Practices for Responsible Retailing which further emphasized the importance of multiple best practices – like a checklist – that retailers could follow to prevent underage tobacco sales. 
Fast forward to 2010 when the FDA opened a public comment period seeking input from anyone interested in helping FDA develop guidelines for an "Approved Tobacco Retailer Training Program."
We Card submitted lengthy suggestions on what best practices should be as did many others. FDA then issued guidance titled Tobacco Retailer Training Programs.
Throughout the past 25 years, We Card has kept track of best practices and continually improved its own recommendations based on what retailers believe works – practical business applications in live transactional environments – and put these together in an easy to follow Guide to Best Practices.
Now 10 years after FDA issued its guidance document, We Card continues to improve on best practice recommendations.  With new developments in technology (such as ID scanning) and other innovations like cost effective mystery shopping, best practices have come a long way to help retailers of tobacco and vapor products drive down underage sales.  Current reports show those underage who make attempted purchases are successful around 10 percent of the time (as measured by tens of thousands of FDA compliance checks).
We know it's vital to do all we can do to prevent the underage sale of age restricted products  -- that's why we developed a short and simple "Best Practices Survey" that can help you, as a retailer, ensure that you are doing all that you can do.  Take our survey here. Once you complete the survey, you can download a FREE guide to Best Practices.