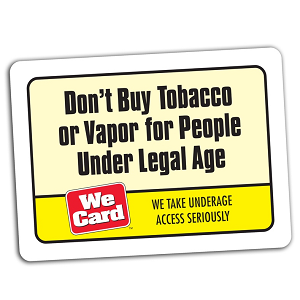 Reading the news headlines you might think that those underage are getting tobacco and vapor products primarily by buying them from retail outlets.
This is not the case.
According to multiple government studies, youth under the age of 21 are getting tobacco and vaping products from a variety of "social sources" such as "bumming, borrowing, giving someone else the money (a legal age adult for example) or some other way" rather than directly purchasing such products in a retail store. In fact, a study of the most recent government data reveals that youth under 18 years old, report they get their usual vapor product 88% of the time through "social sources".
Reports also show that "bought them in a store" or "commercial source" hovers around 8-10% according to these same studies.  Frankly, the news headline should be, "Tobacco and vapor retailers are doing a great job of pushing the underage buy rate down" by ensuring their employees are regularly trained, asking for ID and checking ID's of those under the age of 30. (See age verification tools for more information on age checking options).
You might wonder what can retailers do to pitch in on the larger problem of "social source"?
This brings us to We Card's Best Practice #9
Be On Guard For Adult-For-Underage Youth Purchases
Retailers may sell to an adult, but the product can still find its way to someone underage.  Retailers have an opportunity to look for these sales and stop them. If a retailer can reasonably determine that an adult is buying age-restricted products for underage youth, the sale should be denied.  Retailers are not legally required to complete age restricted product sales.
Some ways to spot an adult purchase for underage youth include:
Large quantity purchases (which might be re-sold),
And sometimes "shoulder tapping" can happen right outside the store where an underage youth might ask a legal age adult to purchase on his/her behalf.
We Card has tools that can help your store address this issue and offers a Retailer Pledge which aims to create greater awareness around Adult-for-Underage Purchases.  Try We Card's role-playing exercises in the online training and display signs that let your customers know store policy. And, if product manufacturers set purchases limits, be sure you and your employees know about these limits.
To learn more about Best Practice #9, stop by We Card's website or to check on your own best practices, take our survey or surf through more tools and training at wecard.org.