FDA seeks public's help to "report potential violations"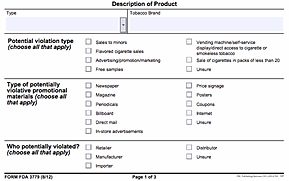 A portion of FDA's Potential Tobacco Products Violations Report
Download a copy here
In a recent FDA announcement, it has asked citizens to report "potential" retailer violations of the underage sales laws, advertising restrictions, and other requirements that FDA set forth in 2010.
Asking for citizen help isn't new. California's Stake Act requires that retailers post a decal that states the law and also provides an 800 number to call-in reported violations. See it here.
What does this mean for tobacco retailers?

Get We Card's Guide to Best Practices -- an interactive PDF. To obtain the Guide, please complete our survey first.
Take We Card Online Training -- an Employee Training Course is available with FDA content. Manager Training Course and a Refresher Training Course are available now.
ID Check-Up -- a confidential mystery shopping service to check your store's performance at carding customers.
We Card's Get Your Store Ready for FDA Enforcement
We Card's Federal Law and FDA Regulations summary
State Law Summaries Find out about the laws in your state -- including fines and penalties.
State Sign Requirement -- In some states, retailers are fined for not having the legally required signs posted. Find out what the sign looks like in your state.
Minor License Visual Characteristics -- Find out what the minor license in your state looks like.
Company Tobacco Sales Policy and Employee Acknowledgement of Company Policy -- We Card's recommended template you can use to customize for your company.
Well, the first reaction might be, "how can they do this?" given that some people may use the anonymous reporting feature inappropriately, perhaps reporting perceived violations that don't exist and might result in needless follow up.
Another way to look at it, however, is to ensure that your store operations meet the standards required by FDA. In other words, make sure you're doing all the right things so that you're in compliance, including training your employees how to prevent underage tobacco sales.
If you'd like to step through a survey of practices to see how you measure up, click here and take our best practices survey.
Knowing that public scrutiny will take on a new meaning, consider visually demonstrating your responsible retailing commitment with We Card in-store signage. Replace faded decals and with new ones. Order We Card materials before year's end.
And whatever you do, be sure to back training with job aids and a means to help sales associates calculate customer ages, such as a We Card calendar. Get We Card's training here.
Either way, whether well-intentioned citizens or compliance inspectors are checking your store, enforcement is here to stay.
For more information on how this potential violations reporting system is to work, click here.
As you close out the year, and look to 2013, keep compliance top-of-mind and a prosperous and Happy New Year to you.
Doug Anderson
President
The We Card Program, Inc.
© 2012 Copyright - The We Card Program, Inc. All Rights Reserved.