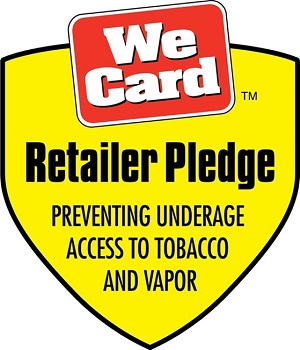 Those underage are getting access to tobacco and vapor products despite retailers' efforts to reject underage purchase attempts approximately 90% of the time.  Age restricted product retailers are doing a good job identifying and denying underage purchase attempts, focusing on compliance with FDA regulations and federal law and state law requirements.
So how do the underage get age restricted products?  It's called "social sourcing." 
The Centers for Disease Control 2019 data show this "social sourcing" is the big problem.  To learn more of the facts about this problem check out our research summary page here.  Adult-purchases-for-underage is one of the ways underage access tobacco and vapor products.  The We Card's Retailer Pledge focuses on what retailers can do.  By taking the Pledge it affirms your company or store(s) commitment to not only comply with the law to deny underage purchase attempts but also works to deny those adult-for-underage purchases.  Some of these situations are obvious:  where you see kids hand money to an adult to get them to purchase tobacco or vapor products. Being "On Guard for Adult-for-Underage Purchases" is also a We Card Best Practice.
Take We Card's Retailer Pledge today — and we'll send you a set of three decals to post in your store — communicating your policy on preventing underage youth access!  Take the Pledge before August 31, 2021, and we'll make sure you get a 50% discount on We Card's online training.  We Card is here to help age restricted product retailers prevent youth access to age-restricted products and preventing adult-purchases-for-underage is part of our mission.