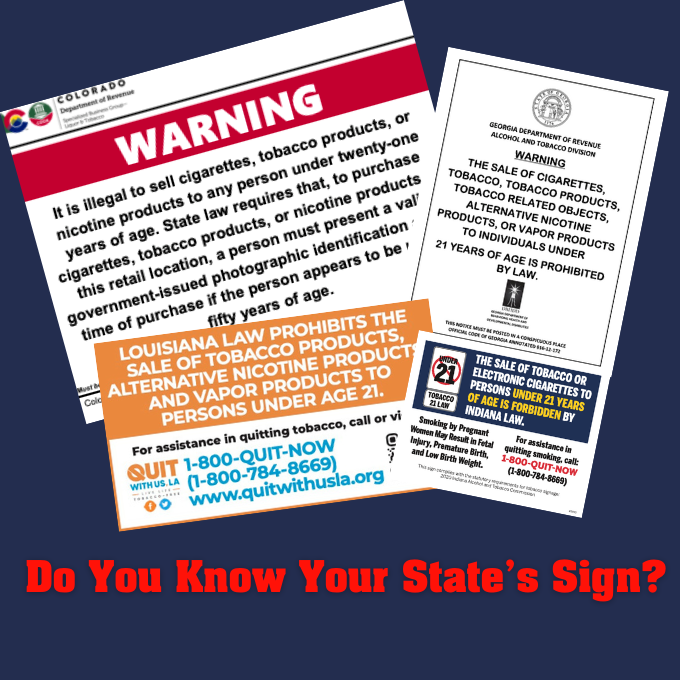 What Sign Does Your State Require?
In some states, retailers are fined for not having legally required signs in their stores.
State laws vary significantly in their requirements for displaying signs at stores that sell tobacco and vaping products.
Some states have robust and stringent regulations, mandating the prominent display of underage prevention signage at the point-of-sale. Other states may have no requirement at all.
The patchwork of regulations can create challenges for retailers, especially those who manage stores in multiple states.
Let's look at two states with very different laws about store signage: Ohio and Colorado.
In Ohio, state law requires retailers to post a sign in a conspicuous place a legibly printed sign stating that giving, selling, or otherwise distributing cigarettes, other tobacco products, alternative nicotine products, or papers used to roll cigarettes, to a person under twenty-one years of age is prohibited by law. Violators are fined $250 and/or up to 30 days imprisonment for the first offense.
In Colorado, the required warning sign must be displayed in a prominent place in the building and has specific language and a minimum height of three inches and a width of six inches with specific language as well. 
And heads up:   Your store could fail a compliance check after properly identifying and denying an underage purchase attempt of cigarettes, a vaping product or nicotine pouches. The failure? Your store failed to have the state-required sign posted properly.
FIND OUT:   Does your state require a state-mandated sign?
Check out We Card's Resource Center's state law summaries and State Sign Requirements.
The Resource Center is free to use, just create a free login and you'll have access to the state sign requirements, the state law summaries, along with our valuable resources – summaries of Federal Law and FDA Regulations, a template for creating a written Company Tobacco & Vaping Product Sales Policy and We Card's Guide to Best Practices.
Find out what the sign laws look like in your state in our state-by-state database.
We Card's Best Practice #12 "Prominently Display Proper Signage" indicates that your displaying of the required signs and any We Card signage helps demonstrate to both your customers and your employees your commitment to responsible retailing. For a free download of We Card's Guide to Best Practices, complete a short survey to get the Guide.
For questions about We Card, our programs, and our activities, please visit www.wecard.org or contact us at comments@wecard.org.